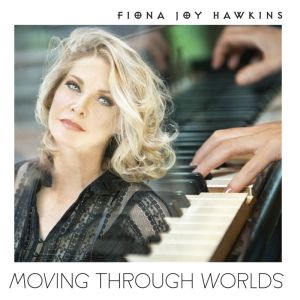 Review by Kathy Parsons, Mainly Piano
Moving Through Worlds – Fiona Joy Hawkins
2020 / Little Hartley Music. 52 minutes
I have been reviewing Australian pianist/composer Fiona Joy Hawkins' music since her 2004 debut, Portrait of a Waterfall, and love that she is an artist who is constantly evolving and pushing the boundaries of what she has done before. I was thrilled when Fiona and fellow Aussie pianist/composer Trysette performed twice in my house concert series several years ago, so I have a special place in my heart for Fiona and her music. Moving Through Worlds, three years in the making, is "an exploration of 'now'…water, fire, climate change, survival, and the vanishing of souls into the wind." (quoted from the liner notes of the CD) During the devastating bushfires that ravaged so much of Australia and its wildlife, Fiona marketed four of the pieces from the album to raise funds for firefighters and wildlife rescue. The album was produced by Will Ackerman and Tom Eaton at Imaginary Road Studios and guest artists include  Will and Tom as well as Charlie Bisharat, Rebecca Daniel, Jill Haley, Eugene Friesen, Jeff Oster, Tony Levin, Jeff Haynes and Paul Jarman. I think this is one of Fiona's best albums to date.
Moving Through Worlds begins with "Calling County Clare," one of the livelier of the fourteen tracks. Paul Jarman's spritely Irish whistle provides a beautiful counterpoint to Fiona's piano and wordless vocals, Ackerman's acoustic guitar, and Eaton's accordion – a great start! "Bushfire Moon" is a haunting piano solo recorded on Fiona's own handmade Stuart and Sons grand piano and seems to be a late-night expression of heartbreaking emotions as the fires raged uncontrolled. "Prayer For Rain" is also deeply emotional and features Fiona's piano and vocals with additional vocals by Rebecca Daniel – very dark and incredibly moving. "All That Is Left" is an ensemble piece that expresses the tremendous loss and despair caused by the fires. As always, Charlie Bisharat's violin goes right to the heart. "Aqua 1" and "Aqua 2" are shorter solo piano interludes. One of the surprises on the album is Fiona's lovely arrangement of Chopin's Prelude in E minor (#4). The original melody is mostly intact, but the left hand and some of the rhythms have been changed. The arrangement is actually a piano/cello duet with Eugene Friesen – gorgeous! I like all of the tracks on this album, but "Tolling of the Fire Bell" is a favorite. Expressing feelings of urgency and a strong sense of emergency, Jill Haley (English horn) and Eugene Friesen (cello) add their talents to this compelling piece. The title track is a trio for piano, violin and cello that overflows with grace as well as passionate emotion. Fiona composed "For the Roses," a piano solo, when she was twelve for her grandmother's funeral – a very sweet and loving tribute! Fiona's piano and soulful vocals combine on "Twilight Moment" to bring a message of hope and healing to the closing track of this exceptional album.
I've heard for many years that the most difficult times in life are often what brings out the best work from artists, and that seems to be very true in this case. Moving Through Worlds is available from Amazon, Apple Music/iTunes, Spotify and many other music sites. Very highly recommended!
Kathy Parsons
8/12/20
Homepage:  https://mainlypiano.com/home
Review Page:  https://mainlypiano.com/reviews/fiona-joy-hawkins-moving-through-worlds
Artist Page:  https://mainlypiano.com/artists/fiona-joy-hawkins