Insight Magazine did a front cover feature and interview for August, I must say it does feel odd to see my face in a newsagency!!
 Insight Magazine August 2009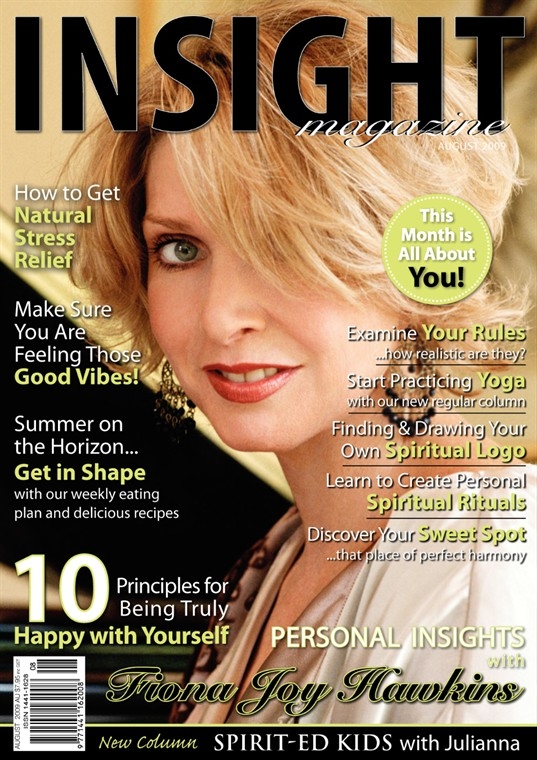 FIONA JOY HAWKINS – LIVING HER DREAM
This year is shaping up to be a big one for multi-award winning contemporary classical composer and performer Fiona Joy Hawkins. Fiona's fourth album Blue Dream, that was produced by Grammy Award winner Will Ackerman and features guest performances from Luka Bloom and T-Bone Wolk (Hall & Oates), has just been released by ABC Music; she has signed a publishing deal with The Music Sales Group; and Japanese record label Domo Records, home to the legendary Kitaro, has invited her to join them. It is going to be a hectic year.
Fiona a classically trained pianist and 2008 MusicOz winner for Best Jazz or Classical Artist released her first album Portrait of A Waterfall in 2005. All of her albums have been critically acclaimed with numerous awards and nominations including two for the 2007 LA Music Awards. However, despite her international standing Fiona's profile has remained relatively low key in her own country – for now.
Fiona first began playing and writing music as a child and cites Ravel's Bolero as a very early influence. "I played this over and over and deconstructed every part, I absolutely loved it," said Fiona. Other musical influences include: George Winston, Michael Nyman, Chopin and Mendelssohn.
Fiona's home was also filled with the sound of the Andrew Lloyd Webber musicals.
"My father played Jesus in the Tamworth Musical Society production of Jesus Christ Superstar so Andrew Lloyd Webber's music was always in our home."
In her free time Fiona confesses to be a bit of a "folkie" at heart listening to the likes of Dido, Janis Ian and Luka Bloom.
"My all time favourite musician however is Luka Bloom. I have been a major fan for years so when he approached me directly through my website to ask if he could work with me I was over the moon," said Fiona.
Luka Bloom features on Fiona's new album Blue Dream a 68 minute suite of music she wrote and recorded at Will Ackerman's Imaginary Road Studios in Vermont, on a Steinway.
"I wrote the music for this album in six months. It was a very emotionally turbulent time in my life and the music reflects how I felt as I was looking backwards and looking forward," said Fiona.
The album goes from quiet contemplative piano to full orchestral, to world sounds, rhythms, jazz influences and back again to the perfect "Bach" moment – all in a breath. The album was produced in surround sound and will be available in SACD format later this year for the purists, as well as traditional CD format.
Will Ackerman, Founder of Windham Hill Records, said, "Blue Dream began as the most ambitious project of my entire career and resulted in one of the most remarkable collaborations this genre has ever known. The scope of what we contemplated in the beginning was so vast as to be nearly paralyzing, but with Fiona's talent, both as a composer and player, and a group of musicians of world-class calibre, a 68 minute suite of music resulted. The music itself spans a broad range of styles and ethnicities and yet (though we didn't know whether we'd succeed until the very end) is magically cohesive. It works! Never has faith been more rewarded. Blue Dream is unique and I'm as proud of it (and Fiona) as anything I've ever worked on in my 35 year career of Grammy Awards and Gold and Platinum records."
In addition to composing Fiona is also a prolific painter who has been exhibiting since 1997. Fiona incorporates original manuscripts of her music on the canvas to create bold colourful mixed media abstracts so you can hear and see her music.
"The idea of synchronicity has always intrigued me, colours, ideas and emotions all have corresponding sounds," said Fiona.
"I believe in the power of music as a source of inspiration and a way of reaching people, and I can transfer a musical quality through my art to the canvas."
In addition to her four albums Fiona has released three albums specifically for the burgeoning itunes market: Music for Funerals, Music For Weddings and Music For Sex.
"I started to notice that specific tracks kept getting downloaded, in particular Ciney's Theme (Wedding March) and realised that people are after purposeful music whether this is for a wedding or funeral. The albums are doing extremely well and Ciney's Theme is now my #1 downloaded itunes track."
Now with Blue Dream out, performance commitments, international interest and a growing internet market Fiona's future is truly looking like a dream run!
Blue Dream is out now on ABC Music. For more information on Fiona go to: www.fionajoy.com